At Amadeus Music, we offer private piano lessons at our Edmonton studio that accommodate a variety of learning styles. Whether you're interested in mastering classical pieces or prefer to learn by ear, we're here to help you achieve your musical aspirations. Our experienced music instructors will collaborate with you or your child to assess the most effective approach to learning and adapt their teaching methods accordingly. Our sessions are dynamic and stimulating, ensuring that not only will you learn, but you'll also enjoy the process!
If you're searching for an enjoyable and thrilling way to master the piano, our private lessons are the perfect choice. Please contact us or give us at a call at 780-489-0289 and we'll be happy to answer any questions you have about our piano lessons!
Benefits of Formal Piano Education
Cognitive Development: Learning to play the piano involves the use of motor skills, listening, memory, and coordination of both hands. Studies have shown that children who study piano at a young age demonstrate enhanced motor skills and auditory memory compared to peers engaged in different activities like sports, drama, or painting. Playing an instrument can stimulate and strengthen neural pathways, contributing to cognitive development.
Discipline and Routine: Piano education instills a sense of discipline and routine in students. Regular practice and dedication to learning and mastering the instrument require commitment, time management, and self-discipline. These habits can be carried over into other aspects of life and can be beneficial in various areas, including academics.
Emotional Cohesion: Playing the piano at an intermediate or advanced level requires emotional cohesion. Many classical pieces, like Bach's Chaconne, were composed under emotionally charged circumstances, and performers need to connect with their own emotions to convey the intended expression in the music. This emotional connection adds depth and authenticity to the performance, making it more convincing and moving.
Overall, piano education can offer both cognitive and emotional benefits to students. The combination of cognitive and emotional development, along with the discipline and routine acquired through learning the instrument, can positively impact a student's overall growth and may prove useful in various aspects of their life.
It's essential to note that these benefits are not limited to piano education alone; they can also apply to learning other musical instruments or engaging in artistic activities that involve similar cognitive and emotional processes. Each musical instrument or artistic discipline can offer its unique set of benefits to individuals.
Our private piano lessons offer a huge range in style of learning.
Classical instruction through the Royal Conservatory of Music (RCM) accreditation is possible with our instructors. The foundations of classical training in playing, theory, and harmony are essential in future musical advancement. Likewise, inspiration for learning the piano comes in many forms. Our instructors are able to take beginners of any age and teach them the fundamentals to play how and what inspired the student in the first place.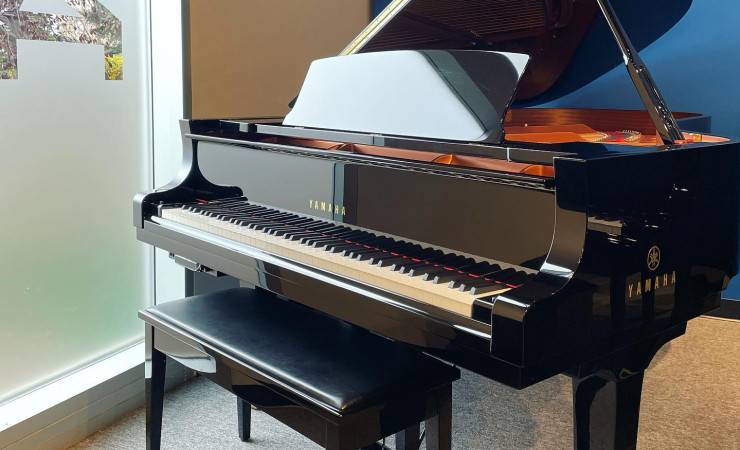 Frequently Asked Questions
Where is your piano studio located?
We are located at 17503 Stony Plain Rd, Edmonton, AB! Our lessons are done in-person at our studio and our store is fully equipped with everything you need for your music journey.
Can you help me prepare for classical piano exams?
Our music instructors possess RCM accreditations and are well-versed in music practice and theory. We can find the right educator who will happily prepare students for RCM examinations & provide performance opportunities throughout the year.
How much do piano lessons cost in Edmonton?
The cost of piano lessons can vary depending on a few factors such as the location, the teacher's experience, and the length and frequency of the lessons. At Amadeus Music, our students work with professional piano teachers, who generally have diplomas and/or extensive teaching and performing experience.
Most adults will take piano lessons of 45 or 60 minutes duration. Most children begin with a 30 minute lesson. Please contact us and we'll find the most suitable lesson plan & instructor for your budget.
What should I have ready for my first piano lesson?
When attending your first piano lesson, your teacher may ask you to purchase several resources from a music store, such as sheet music and piano method books. Additionally, they may request that you bring a notebook and pencil to the lesson. At Amadeus Music, we will carry everything you need to help ensure your success during your lessons.
"If I were not a physicist, I would probably be a musician. I often think in music. I live my daydreams in music. I see my life in terms of music."

– Albert Einstein
Want to learn some Coldplay, Elton John, or even Journey?
We can definitely help with that.