Yamaha upright pianos have set the standard by which upright pianos are measured.
At Yamaha, it is believed that the piano is not a "finished" instrument; we relentlessly endeavor to improve the piano by pursuing the "ideals" for the piano: ideal touch, ideal sound, and ideal resonance. Innovative manufacturing methods and the meticulous selection of materials are only some of the ways Yamaha continues to positively evolve the piano without compromising its reputation of excellence.
This beautiful studio-style piano offers the joy of Yamaha ownership at a price that will delight. At a size that will accommodate even the smallest of spaces, this instrument projects a powerful tone, combining art, craftsmanship, and technology, making it a pleasure to play and to own.
(Available finishes: Polished Ebony, Polished Ebony Chrome, Polished White)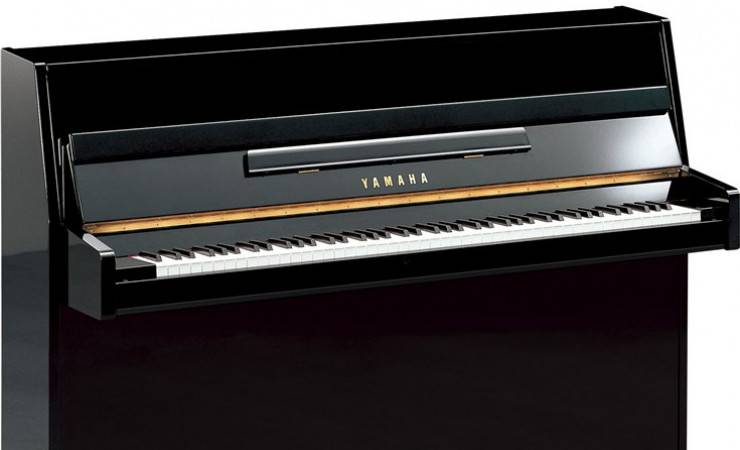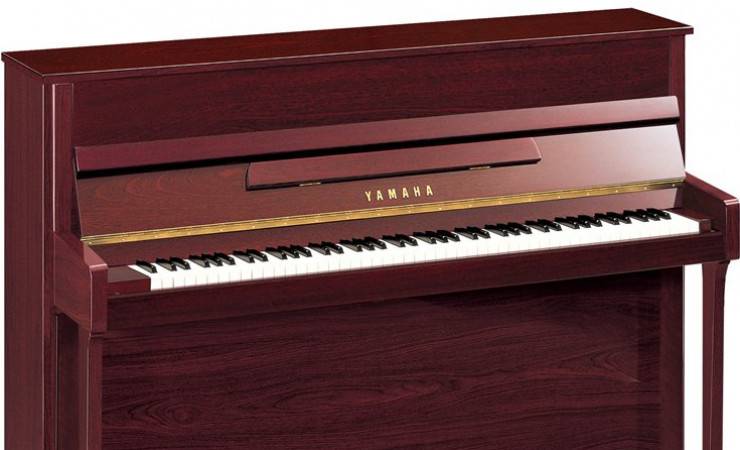 In addition to its larger dimensions and heavier construction, the Yamaha B2 features a solid spruce soundboard to deliver superior sound with added depth and volume. For the ambitious performer on a budget, there is no better instrument.
(Available finishes: Polished Ebony, Polished Ebony Chrome, Polished Mahogany, Polished Walnut, Polished White)
The Yamaha B3 is the top of the B-series and encompasses professional standards while remaining true to the series' design philosophy of exceptional value at a very affordable price. At the heart of the B3 is a solid spruce soundboard and professional double-felted hammer action, which produces unparalleled performance in this price point.
(Available finishes: Polished Ebony, Polished Ebony Chrome, Polished Mahogany, Polished Walnut, Polished White)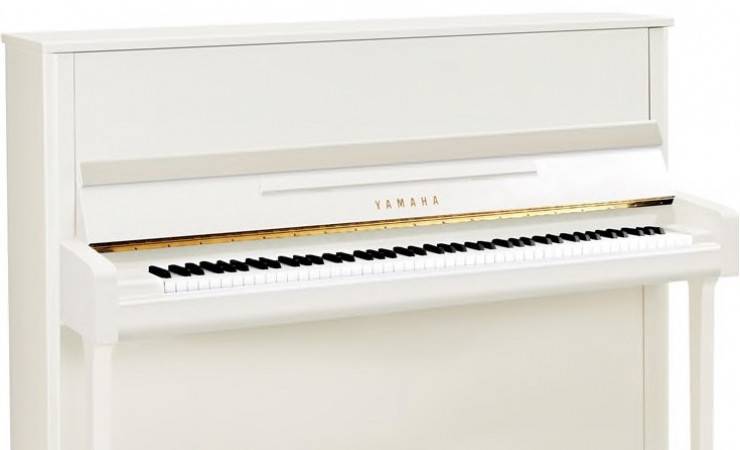 Contact us for all your musical needs!
Let us help find the right piano for you!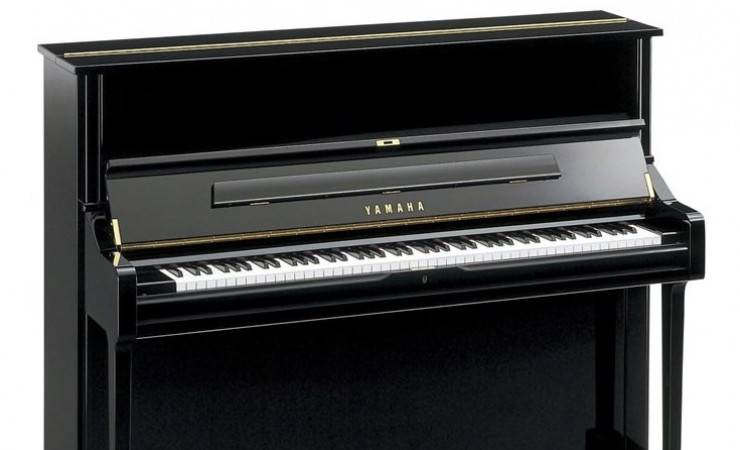 This world-standard instrument continues to exceed the expectations of music educators and professionals globally. Thanks to numerous advances in materials and construction, the Yamaha U1 continues to set extraordinary standards of excellence and elegance. Using refined scale designs and components that improve tonal performance and incorporate concepts from Yamaha grand pianos, this professional upright delivers an outstanding musical performance.
(Available finishes: Polished Ebony, Satin Ebony, Polished Mahogany, Satin American Walnut, Polished White)
This tallest and most distinguished model of the U-series provides the standard of performance expected from the world-standard professional upright series, while delivering a tone and expressiveness worthy of a grand piano.
(Available finishes: Polished Ebony, Polished Mahogany, Satin American Walnut)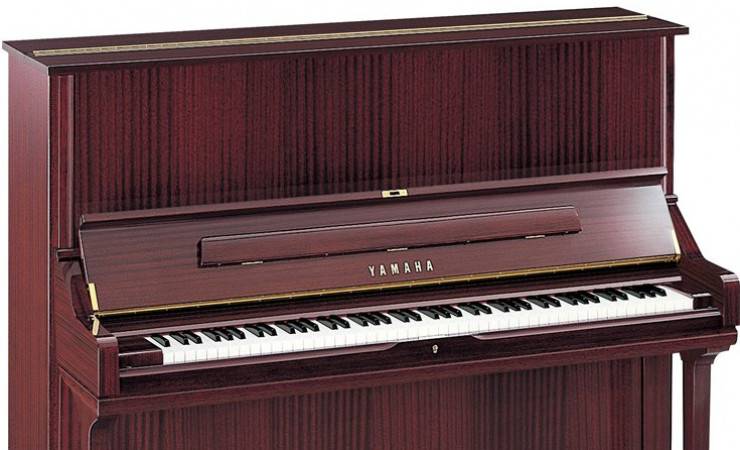 The quality craftmanship of Yamaha's premium grand pianos has created an upright series with superior voicing, and luxurious sonic resonance. Having this superbly crafted instrument feature specially designed hammers and a simple cabinet design, allows this fantastic upright to have superb acoustics, even with the subtlest notes.
(Available finishes: Polished Ebony, Satin Ebony, Polished Mahogany, Satin American Walnut, Polished White)
This upgraded model of the YUS1 features all the highlights of this grand-voiced series, but expands on this with an ever-greater tonal response and expressive richness.
(Available finishes: Polished Ebony, Polished Mahogany)
This pinnacle of Yamaha's upright piano series features an expressive control and playability that is unparalleled. With the same keyboard action as the top-of-the-line grand piano models, this instrument combines a sense of grace and elegance of the highest quality sound. Boasting a full sostenuto pedal, tonal escape music rest, and Ivorite keytops, makes this incredible instrument a must-have for all professional upright piano users.
(Available finishes: Polished Ebony, Satin American Walnut)
This professional model upright is the clear choice for schools, studios, religious institutions, and even personal use at home. Key features that make this instrument the go-to for many institutions are a professional action and tone at a slightly shorter height, ideal for a teacher to look over in a classroom, double rubber roller casters for easy mobility within any facility, and double locks, ensuring that the integrity of the interior of the instrument can be maintained by intended technicians only.
(Available finishes: Satin Ebony, Satin Walnut, Dark Oak)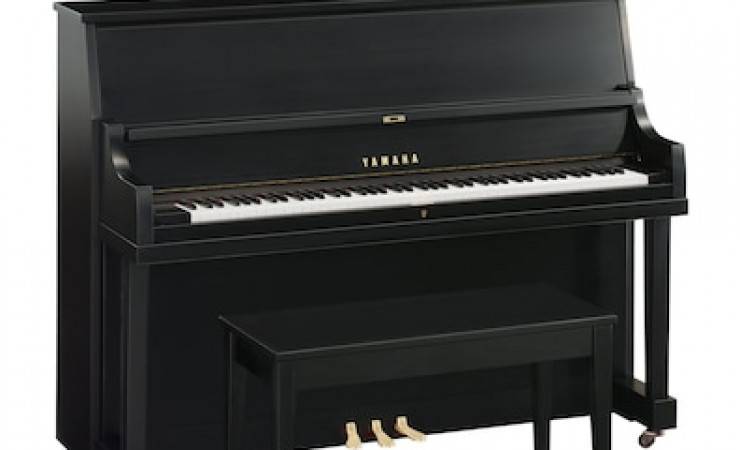 The only performance reproducing piano that is fully integrated to create the perfect music eco-system. Over 25 years of continuous development has led to superior recording and playback features that are unparalleled in the industry. In addition to unrivaled performance reproduction, the Disklavier offers what other systems simply cannot.
Whether for a school, business, or recording studio, the Disklavier is sure to provide the highest resolution recording and playback paired with the highest quality acoustic pianos. The Disklavier recreates a precise portrayal of the artist's intentions: every note, every nuance.
Enjoy beautiful piano solos or piano ensemble performances, fully enhanced by vocals and backing instrumentation.
The integrated Silent piano technology allows you to listen, learn, and play without being disturbed or disturbing others.
With the largest collection of any player piano, expanding your music collection has never been easier with the thousands of titles in the music catalogue. Add to this incredible instrument, the power of streaming piano music available 24/7, with over 30 channels to choose from covering every genre of music.
Disklavier technology now enables you to view performances at the same time as they are played on your instrument. Imagine having the performance you're watching on screen being performed on your instrument in front of you. Yamaha's amazing innovation and development have made this a reality, enabling you to not only watch a performance but to record with video your own performance and have it played back with equal precision.
Disklavier Piano Lineup:
DGB1K EN Classic – 5'0" (Playback Only)
DGB1K EN – 5'0"
DGC1 EN – 5'3"
DGC2 EN – 5'8"
---
DC1X EN – 5'3"
DC2X EN – 5'8"
---
DC3X EN PRO – 6'1"
DC5X EN PRO – 6'7"
DC6X EN PRO – 7'0"
DC7X EN PRO – 7'6"
---
DU1 EN – 48" (Upright)
TransAcoustic Piano is an innovative proposal from Yamaha for new ways to utilize and enjoy the acoustic piano. The authentic reverberation and resonance are unique to acoustic pianos, combined with the ability to adjust and enhance the volume of the instrument, making this a truly versatile, modern take on this instrument.
Imagine a full acoustic sound for all occasions, married with the rich sound of your favorite voices, all available at your fingertips. Add the benefit of immersing yourself in your playing with the Silent Piano mode, and together you have a world-class instrument that is unparalleled in the industry.
What is TransAcoustic Technology?
When you press the piano keys, its hammer strikes the corresponding strings, and the strings vibrate. The initial string sound is small, but the acoustic capability of the piano responds with the soundboard amplifying the sound so that the entire body of the piano serves as a resonator.
TransAcoustic Technology does not rely on speaker units to produce sound. Instead, transducers are used by converting audio source signals into vibrations and then relaying them to the soundboard. The soundboard amplifies the vibrations, and the entire piano vibrates sympathetically.
Due to the weight of commonly used transducers being too heavy, Yamaha developed transducers, especially for acoustic pianos. This allows faithful reproduction of the sound of an acoustic piano.
TransAcoustic Piano Lineup:
U1 TA2 – 48" Upright
YUS1 TA2 – 48" Upright
YUS3 TA2 – 52" Upright
YUS5 TA2 – 52" Upright
---
GC1M TA2 – 5'3" Grand
C1X TA2 – 5'3" Grand
C3X TA2 – 6'1" Grand
A Yamaha Silent Piano offers the enjoyment of playing an acoustic piano, even when played while wearing headphones. This truly is a versatile, modern take on this classic instrument.
Yamaha first released a Silent Piano in 1993 and has continued to perfect the sound muting technology ever since. Now, almost every acoustic piano model Yamaha makes is offered with Silent Piano as an option.
Silent Piano technology is possible due to key sensors equipped with a continuous-detection grayscale shutter sensing system that captures every nuance of the piano key movement. This makes it possible to execute repeated notes and trills at the edges of keys smoothly and naturally. Most importantly, the sensors are non-contact, so they do not affect the touch of the keys.
Forgetting that you're even wearing headphones is common due to Yamaha's CFX Binaural Sampling. Binaural sampling is a painstaking method of recording using special microphones that are set up in the same positions as the performer's ears. This is specifically done to enhance the listening experience.
Need More Information?
Give us a call or join us in store!
Avant Grand hybrid pianos are truly the best of both worlds: everything you want from an acoustic piano, and everything you need in a digital piano.
The Avant Grand is a hybrid piano that doesn't settle for acoustic approximations, as it offers a true acoustic action. Whether it's the upright style action of the NU1X or the grand style actions of the N1X, N2, and N3X, we're sure that the Avant Grand will leave you speechless in its delivery of an authentic acoustic piano experience.
Having a REAL action and using Tactile Response technology replicates the natural vibration of an acoustic piano, creating an immediate connection between instrument and player.
Avant Grand Piano Lineup:
NU1X (Available in Polished Ebony & Polished White)
N1X (Available in Polished Ebony)
N2 (Available in Polished Ebony)
N3X (Available in Polished Ebony)
Shop Our Selection of Avant Grand Pianos
Browse online or come in-store to see what Avant grand products we have!