Amadeus Music takes great pride in bringing the globally recognized Yamaha Music Education System (YMES) to the Edmonton area. The YMES is designed to cater to the distinct requirements and developmental phases of various age groups. This system aims to cultivate a student's overall musical proficiency within an environment that encourages a passion for music and a commitment to lifelong musical involvement.
To learn more or enroll in the Yamaha Music Education program, please contact us or give us a call at 780-489-0289.
Amadeus Music is an authorized Yamaha Music Education school. Our classes are run by two Yamaha group teachers, Shelby and Ryan!
Yamaha Group Lessons
Music Wonderland (ages 3 to 4)
Music Wonderland is designed to provide children with an introduction to music in a positive and enjoyable atmosphere. Together with their parents, children experience singing, introductory keyboard activities, movement, and listening to music. Music Wonderland lays the foundation for a lifetime of enjoyable music making through these carefully planned activities. This course leads to the Junior Music Course Program.
Junior Music Course (ages 4 to 5)
Early childhood is the ideal time to start music lessons. At this age, the ear is at its peak of sensitivity. Learning music is as natural as learning to speak. Yamaha's unique curriculum is designed to give your child the best opportunity to develop basic music skills. The creative approach centers on developing the three essential elements of pitch, harmony, and rhythm.
Young Musicians Course (ages 6 to 8)
The Young Musicians Course is a great way for children to begin a lifetime enjoyment of music. The three-year curriculum develops musicianship and keyboard playing skills with wonderful materials written specifically for beginners of this age.
"The true beauty of music is that it connects people. It carries a message, and we, the musicians, are the messengers."

– Roy Ayers
All About the Yamaha Method
In contrast to traditional private piano lessons, the Yamaha curriculum encompasses a wide range of activities. Students are taught to sing solfège, play the keyboard, sing songs with lyrics, move to music, participate in rhythm and keyboard ensembles, and engage in music appreciation activities. The program emphasizes developing varied musical skills rather than prematurely focusing on a single instrument or style. This approach enables students to select their musical direction later in life when they are more physically and mentally mature. As a result of their well-rounded education, Yamaha students frequently assume leadership roles in school orchestra, band, and choir programs.
The Yamaha approach to music education involves weekly group lessons that aim to provide students with a solid foundation for developing fundamental music skills. The program places a strong emphasis on developing a good sense of rhythm and ear training. The curriculum includes a variety of activities such as singing solfege and words, playing the keyboard, sight-singing, sight-playing, ensemble work, and promoting musical creativity. According to research conducted by the Yamaha Music Foundation, a child's ear develops most quickly between the ages of four and six, as indicated by a graph. This makes it an optimal time to begin developing music skills since hearing development is closely linked to learning music. Parents are encouraged to attend the classes with their child, as they are the crucial connection between the classroom experience and successful practice at home. By participating in the learning process together, both parent and child can share the joy of learning music.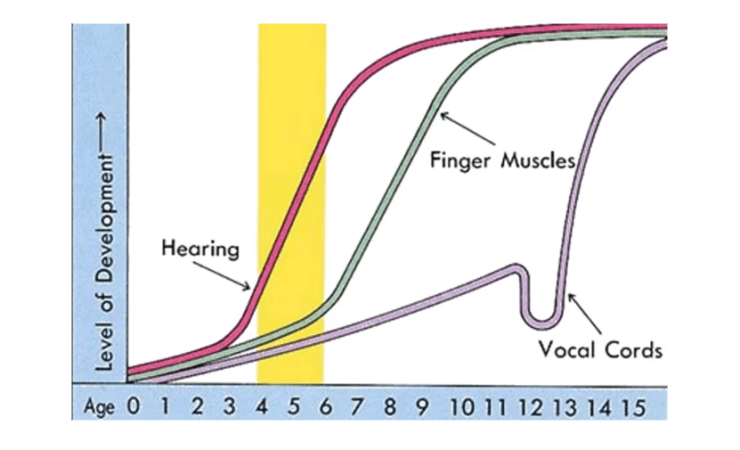 Ready to start learning?
Contact us today to find out more!