Amadeus music is the perfect place to learn the accordion!
Want to impress your friends and family with some cool accordion skills? Look no further than Amadeus Music! Our experienced instructors will have you playing your favourite song in no time. Our Edmonton accordion classes are fun and interactive, so you'll enjoy learning the accordion. We offer classes for all levels, whether you're a beginner or an advanced player.
If you're searching for an enjoyable and thrilling way to learn the accordion, our private lessons are the perfect choice. Please contact us or give us at a call at 780-489-0289 and we'll be happy to answer any questions you have about our accordion classes!
The coolest instrument on the planet
Encourage creativity & express yourself
Are you looking for a creative outlet for yourself, a teen, or a child? Look no further than Accordion lessons! Accordion lessons offer a unique opportunity to learn an instrument that is diverse in its musical genres. It can be used in folk music, jazz, rock, and even classical music. Plus, it's just plain cool to whip out an accordion at a party or jam session. The possibilities are endless when you pick up an accordion. Accordion lessons can also help develop essential life skills such as patience, discipline, and perseverance. What a bonus!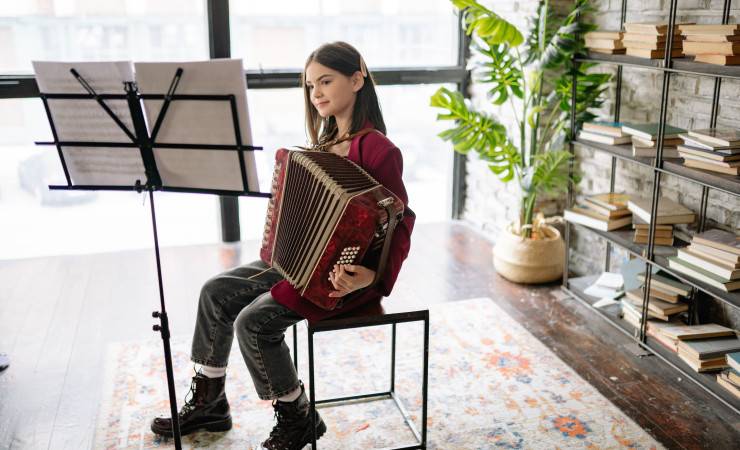 A fun hobby that's also healthy for your brain
Learning to read music can help improve cognitive abilities at an age! Playing the accordion can improve memory and coordination. Reading sheet music helps with mathematical understanding and problem-solving. So not only is it a fun hobby, but it also has many cognitive benefits. So pick up that instrument and start practicing! You never know what new skills you may develop.
Give your child a unique competitive edge
In accordion lessons, kids not only learn how to play an instrument together as a group but also how to compete individually. Through teamwork and setting personal goals, they develop important skills such as cooperation, competition, patience, discipline, and perseverance. These skills will benefit them in all areas of their lives. Enrolling your child in accordion lessons is a great way to help them excel in both their personal and professional endeavors.
Music lessons that teach life skills
Are you ready to take your accordion playing to the next level? Sign up for classes at Amadeus Music today.