Our Edmonton guitar teachers have expertise in various music genres and can teach all types of guitar to students of any skill level. Whether you have a specific riff you've always wanted to play or a challenging solo you've been eager to master, you'll find the inspiration and guidance you need right here. At Amadeus Music, we strongly believe that anyone can learn to play guitar; they simply require the guidance of a suitable teacher.
If you're searching for an enjoyable and thrilling way to master the guitar, our private lessons are the perfect choice. Please contact us or give us at a call at 780-489-0289 and we'll be happy to answer any questions you have about our guitar lessons!
Learn With Our Experienced Guitar Instructors
Backed by years of performance, studio and classroom experience, our team of highly skilled guitar instructors use proven teaching strategies to help students make continuous progress and realize their full musical potential. We offer customized lesson plans for every student - learning proper techniques, improving current skill level and reaching particular goals including:
Learning to play the songs you love
Setting your own goals
Play guitar like a pro
Appreciate music on a deeper level
And most importantly, have fun playing guitar!
Your First Guitar Lesson
At Amadeus Music, we take a tailored approach to our guitar lessons. Our instructors will discover your goals by first discussing your experience with music and guitar, then talking about the kinds of music you want to play.
For Beginners: Our instructors will give a tour of the guitar such as instrument orientation and how to strum it with the correct technique. Then, we'll start working on your first song. At the end of the lesson, you will have a better idea of what it takes to learn guitar, as well as gaining a lot of new knowledge and experience!
For Experienced Guitarists: First, our instructors will talk more about what you already know, so we can get an idea of where we should start. Our lessons will be tailored to give you a direction to boost your skill level and understanding of music. We'll do some guitar jamming or work on a specific song during the lesson. At the end of the lesson, you'll have a better idea of what is required to take your guitar playing to the next level, as well as a plan for doing so.
At some point everyone has wanted to play guitar; at the very least even air-guitared a solo to a song that caught your mood one day. The truth is that you can learn to play, and we can make that happen. Whether you want to play the lead notes of Carlos Santana or learn the pumping rhythm of Malcolm Young, it begins by signing up for lessons here. Start strumming around the campfire with our instructors' help today.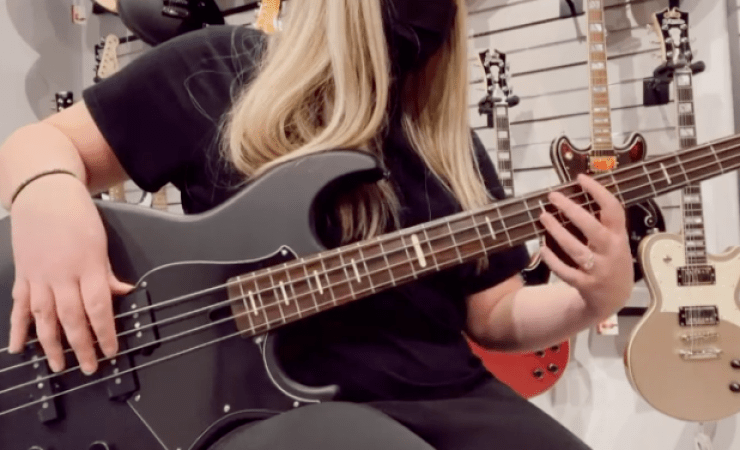 Frequently Asked Questions
Where is your guitar studio located?
We are located at 17503 Stony Plain Rd, Edmonton, AB! Our guitar lessons are done in-person at our studio and our store is fully equipped with everything you need for your music journey.
What style of guitar can I learn?
Our instructors can teach and give lessons on acoustic, classical, electric and bass guitars. We also have instructors specializing in other stringed instruments such as banjo and ukulele. All of our instructors are practicing musicians and well-versed in the variety of different musical styles on guitar, including folk, rock, pop, blues, jazz, metal and more.
How much do guitar lessons cost in Edmonton?
The cost of guitar lessons can vary depending on a few factors such as the location, the teacher's experience, and the length and frequency of the lessons. At Amadeus Music, our students work with professional guitar teachers, who generally have diplomas and/or extensive teaching and performing experience.
Please contact us and we'll find the most suitable lesson plan & instructor for your budget.
"Music is like a psychiatrist. You can tell your guitar things that you can't tell people. And it will answer you with things people can't tell you."

– Paul McCartney
Ready to start learning?
Contact us today to find out more!